Are you looking for fun activities on how to teach toddlers the alphabet?! For me, it was never my intention for my son to know the alphabet by the age of 2. But through using his curiosity and sprinkling in the alphabet letters throughout his day he did learn them quickly.
Toddlers and children learn best through play so in this article, we'll explore all the fun ways we brought letters into their play.
Kindergarten teachers see kids with a variety of different abilities levels entering kindergarten each year. This includes identifying letters and letter sounds. So whether you are trying to get a "jump-start" on teaching your toddler the alphabet or your child is headed back to school soon it's never too early to begin teaching early literacy skills.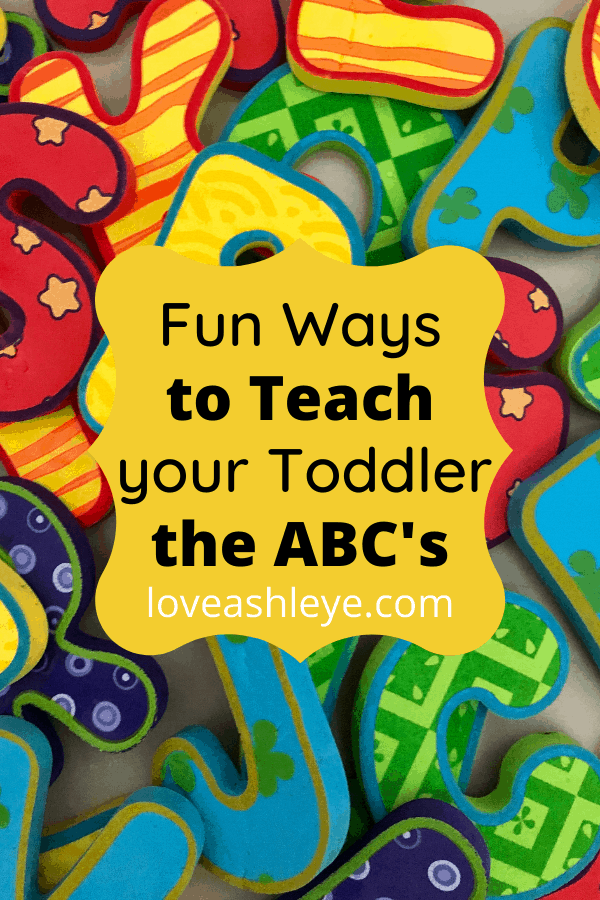 This post may contain affiliate links, which means I'll receive a commission if you purchase through my link, at no extra cost to you. Please read my disclaimer below.
When are children expected to learn the alphabet?
According to an article on Healthline found here, children may start to recognize and name objects from a picture book around 18 months. However, it mentions that at age 5 children will begin to identify letters. They also discuss the importance of recognizing that we will see variations among children.
However, both of my children have started to identify letters of the alphabet around 15-20 months.
Make sure to always talk with your pediatrician at your child's well visit. They will be the best judge of your child's development.
I honestly couldn't believe it when I realized that he knew more than he was letting on. We were at Thanksgiving and he was 20 months old. He looked at my brother's football jersey and without question identified the number on the jersey! At the next family function, he correctly identified the letters on someone else's shirt.
Now that you know that learning letters (just like many other developmental milestones) are on a spectrum. I'll give you the steps I took that taught my child all of his letters by age 2!
How did I teach my toddler the alphabet?
The secret to teaching toddlers the alphabet is to make it all part of a daily routine so it's not teaching. It's just living our lives … and along the way, he is learning. It doesn't feel like an extra job and it doesn't take extra time. It just takes thought and knowledge to know what to say and how to say it.
In this post, you will learn how to start teaching and implementing letter practice into your everyday life.
ABC books
Books are great for exposing toddlers and children to different vocabulary, topics, and to help them create visuals for things they may not have experienced. This includes concepts of letters.
Books are a staple in our home and you can head over my Instagram to learn how I organize all of our books. Both of my children love books and I wanted to make sure that they were a part of their everyday life regularly. So when I found an ABC book on sale for $3 at T.J. Max I couldn't pass it up.
That was hands down one of the best purchases, I've ever made for him. He loved that book. We read it almost every day for months on end. By the time he was 2, he was able to read the entire book to me.
We have quite a few ABC books now and he loves them all! Some of his favorites are Chica-Chica Boom! Boom!, A is for Apple, and the ABC book I have linked for you below.
I have also recently written a great article on alphabet books that I love to use to teach the ABCs to toddlers through kindergarten. You can click the image below to read more about alphabet books for toddlers.
ABC Song
Like most toddlers, music is a hit in our house! My husband made it a point to sing to him the ABC song at bath time starting around age 1. This allowed for more discussion and more exposure to the alphabet. Singing allows toddlers to be engaged by different senses.
Not all children are going to learn from a book, so we have to activate the brain in different ways. Hearing the ABC song gives exposure to these "letters" that a baby or toddler doesn't know much about.
Foam Letters in the Bath
When my mom was asking for Christmas ideas for my oldest son (around 18 months) I mentioned that these might be a good idea (you know to support the ABC song). You know how Grandmas are … ask and you shall receive it!
The next thing I knew his dad was putting the bath alphabet letters on the wall in order while singing the song! I do not doubt that my teacher's heart did a flip that day! Either way, bath letters are one of my most talked about tools for teaching toddlers, and for good reason!
Toddlers need to be in the bath at least a few times a week (if not every day) and adding the letters gives a variety of different ways to play.
He also played a lot of games with the letters in the bath including
"Can you find the yellow letters?"
"Can you find the letter T?"
Finding the Letters and Placing Them in the Order of the Song on the Wall
In all reality, these letters aren't too expensive. They can be used for so many activities and games inside (and outside) of bath time.
Let me know in the comments below if you are interested in me making a post about all the ways you can use these letters.
Wheel of Fortune
For a 1 or 2-year-old?! Yes!
Here's the scoop, growing up my mom loved Wheel of Fortune! But, as a family, we had never watched this show. One night when my oldest was maybe 6 or 7 months I told my husband at dinner "let's watch Wheel of Fortune tonight". He was confused as we had never watched it before. I had NEVER before mentioned watching it as a child.
Well just like that it became part of our nightly routine, we watched this show nearly every day for a year (or 2).
I had NO idea he would actually learn his letters from the show. When he was maybe a year and a half he started saying the letters as the contestants did.
He is now three and we don't watch it every night anymore but he will now ask me, "Is A a vowel?". Even if Wheel of Fortune isn't part of your nightly routine it is important to take this as a lesson.
Our kids are ALWAYS watching and listening. They soak it ALL up, so everything you are doing MATTERS! No shame, no guilt just remember you matter, your routine matters, what you say (& how you say it) matters, and what is on your TV (and other screens) matters.
YouTube: Jack Hartmann
To say we were "Blessed with the Best" in the babysitter department would be a huge understatement! Around 17 months old, my son started at a new babysitter. She would tell me that she could tell that Lucas was picking up on some of the lessons that she was doing with her preschoolers during the day.
I later found out that she regularly plays YouTube on her TV in the background while the kids play.
More specifically she plays Jack Hartmann videos. She was playing a video of all the letters of the alphabet every day on her T.V. This was more exposure that helped him learn his alphabet. If you are curious about Jack Hartmann you can check out his Youtube videos here.
Toys with the ABC's
For his first Christmas (around 9 months) we got him a VTech Ultimate Letter Cube (I know that toys with lots of lights and sounds can be controversial).
It has blocks that come with letters of the alphabet on them. This allowed more exposure to the letters of talking about them, identifying them, and playing with them. There is a place on the toy where they can put the letter blocks into the cube and the cube will light up with the letter.
It also tells them what letter it is, and an item or animal associated with that letter. He played with this toy for upwards of 15 minutes at a time (a HUGE mom win)!
He was also gifted a LeapFrog computer and the Melissa and Doug ABC puzzle for Christmas. These toys grabbed his attention and kept him engaged because he was already very curious about the letters and learning them.
There are dozens of toys on the market that incorporate the ABCs, the idea is to find one that interests your child. My older son would spend quite a bit of time with the letter cube, however, my younger son isn't as into it.
Letter Exposure (a bit of a reading lesson here from a teacher that LOVES teaching kids to read)
A tip I always tell parents of kids that are struggling with reading is to make it a point to show them letters, words, and writing everywhere you go! Toddlers and kids must know that letters make up words, and sentences are made up of words to learn to read.
So how do we teach our kids this?
We start by exposing them to all the words around them regularly. Think of all the words you see with your toddler on any given day; restaurant logos on the way to the store, the stop sign, the name of the store you are walking into, the cereal boxes, the receipt the cashier gives you- you get the picture! These words are all so important to our little ones!
I often tell my toddlers, "Look Kroger (pointing to the sign), Kroger starts with K, do you see the K?" Now I don't know if he did or not but I do know that by the age of 18 months he could proudly identify if an object had a Kroger logo on it.
Trust me I don't do this every time we see a word, but I try to do it a couple of times a day.
Even if you can't find time to read with your child during the day just point out to them that the McDonald's you just passed starts with the letter "M" and "M" says "Mmmmm" … it will make a difference long term.
They might not even see the sign but eventually, they will and they will start to pick up on the fact that McDonald's is a word and it starts with an "M".
Conclusion
Well, there you have it. These are my tips for how I taught my toddler his letters by age 2, without adding much to our daily routine. Remember all kids are different, I wasn't doing it to intentionally teach him it just happened over time. Will it work with my 17-month-old?
I'm not sure only time will tell, but I know that it can't hurt to implement the same ideas.
We mustn't compare our kids but keep sight of who and where they are.
Do you have any other tips or tricks as to how you help young toddlers learn letters, numbers, shapes, and other concepts?
I would love to hear in the comments below. If you found this content helpful or learned something please share it with your family and friends!
Love, Ashley E
Looking for More Articles?! Check These Out …